Product Formats
Customized Products for Your Market
From family-sized tins that ensure a lengthy shelf-life, to
snack-sized portions perfect for an afternoon pick-me-up,
Marldavi Internationals' variety is only paralleled by it's commitment
to high quality products and freshness.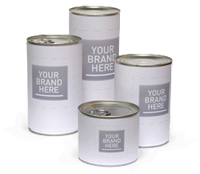 Private Label
We offer many labelling options and supply major retailers in Europe, Canada and South America, as well as branded multinational companies. Know that you can trust our experience when adding these delicious products to your existing line.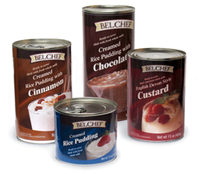 Belchef
A delectable line of products, packaged under an existing brand and distributed through Mardalvi. Great for getting started without the added overhead of building a new Brand. Start stocking your shelves today!
Sizes
All puddings and custards can be packaged in 624g:22oz, 510g:18oz, 400g:14oz, 200g:7oz.
Easy to Open
All puddings and custards are available with "ring pull" cans to allow for easy opening.
Healthy Choices
Low fat products are also available to meet the growing demand of Health Conscious consumer markets.
For more details contact us