Products
Shelf-Stable Puddings Made with the Finest Quality Ingredients
All of our products are made using premium ingredients, such as fresh milk from the Flanders area of Belgium. We have the ability to work with custom recipes to ensure we provide the flavor profiles necessary for your market.
Creamy Rice Pudding
It is home made rice pudding fresh from the can. This dessert is delicious served hot or cold. Try blending or sprinkling with cinnamon just before serving or enjoy with fresh and dried fruits. It is perfect home made Rice Pudding that is always ready to eat.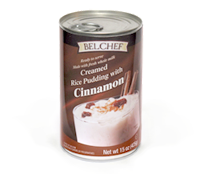 Rice Pudding with Cinnamon
Expand your line by combining the rice pudding that you already love with just the right amount of cinnamon. You'll discover a great tasting variation of our creamy rice pudding, a delight for your taste buds.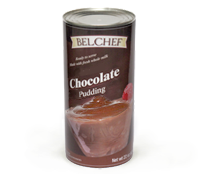 Belgian Chocolate Pudding
Rich and delicious this chocolate pudding can be served by itself or as part of a sumptuous dessert. Use it as a topping or add whipped cream to create a tasty treat.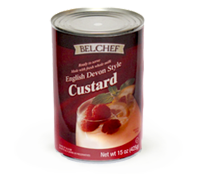 English Devon Style Custard
A luxurious custard everyone will love! This perfectly smooth and creamy favorite is coloured naturally with beta carotene and is comparable to any gourmet custard. Serve on its own or treat yourself by combining with fresh berries in a waffle basket or cake.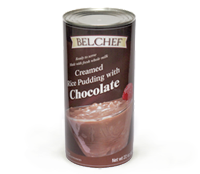 Belgian Chocolate Rice Pudding
This rich, unique chocolate dessert can be served warm or chilled. Sprinkle with candied or caramelized orange peel or add your favorite exotic nuts and fruits to accent the decadent chocolate.
Additional Products:
Vanilla Rice Pudding
Low Fat Rice Pudding
Belgian Chocolate Pudding
Caramel Custard
Praline Custard

Custom Recipes Available.
For more details contact us