Why Choose Mardalvi?
Expertise, quality, and taste do not come at a premium. Marldavi's commitment to great products is reflected not only in its excellence, but also in its price. Pudding knows no boundaries. It is consumed all around the world, providing limitless opportunities to reach a wide variety of customers. Our puddings are manufactured with your customer in mind – uniquely crafted and customized to be unmatched by any other on the market. This is why our clients: food distributors, supermarket chains, and mass-merchandisers have had consistent sales.
Experience you can Trust
Pudding has withstood the test of time with its simple sweetness and satisfying taste and texture. Partnering with Marldavi International provides the opportunity to bring this traditional dessert into its own; to provide the tools to transform simple recipes into gourmet desserts; and to redefine the meaning of fresh. No matter what format you choose, you can always be confident when putting your name on our products.
Quality and Service are our Priority
Our products are packaged on a highly sophisticated production line, enabling us to offer the highest quality pudding and custard while maintaining consistency. Distributing 70 to 80 million units annually, we have the capacity to ensure your orders are delivered complete and on time throughout the year.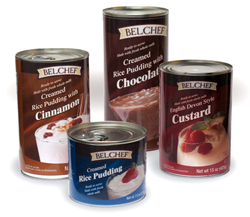 All Cans are BPA Free
All of our products adhere to strict safety standards required by demanding markets such as England, France, Germany, The Netherlands, Canada and others. Lined tins keep all of our puddings fresh. Our unique preparation allows us to offer a shelf life of 18-24 months which allows your consumer the ability to keep it handy in their pantry for a wonderful dessert any time. A variety of flavours are available, please view our product page or contact us for more information.